He found love, lost 275 lbs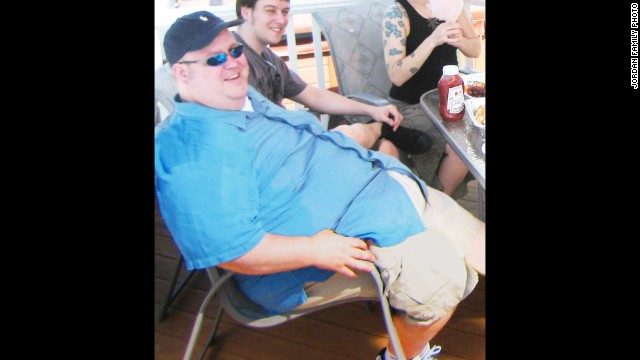 In the summer of 2007, Lee Jordan hit his heaviest weight of 454 pounds. "There are almost no pictures of me 'big' because I never allowed my picture taken," he said.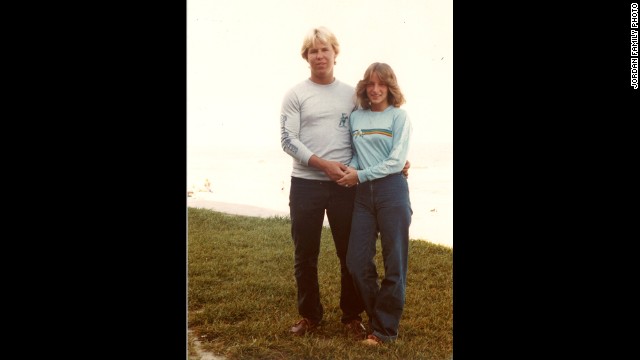 Jordan and Beth Schwein met in the summer of 1979 through a church youth group in the Washington area. Several months later, they went on their first date. She admits having a crush on Jordan, and he says he was "immediately smitten." They dated throughout high school.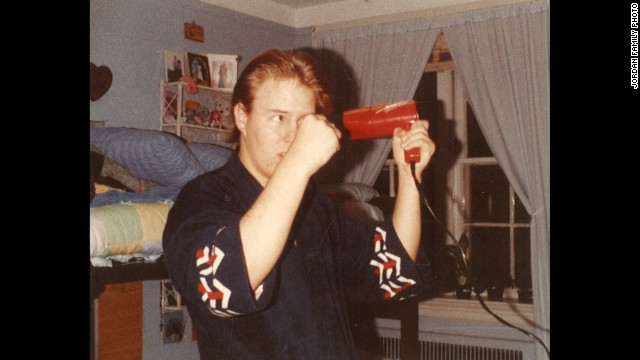 Schwein went to Radford University, and Jordan followed after his graduation the following year. In college, he focused more on partying than his academics, and the couple eventually parted ways. "I never, ever blamed her," he said. "It was the right decision, but it broke my heart."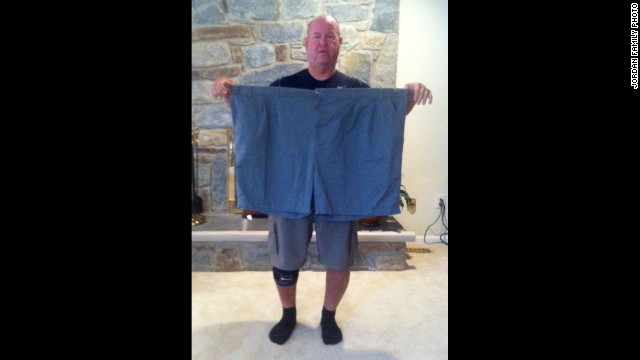 After battling his weight for for years, Jordan decided to make a change. Here, in 2010, he holds up an old pair of his shorts, size 72 waist. He is 5 feet 8 inches tall. These shorts are 6 feet around. "I lived, barely able to take care of myself — caught in the endless cycle of remorse and regret," he said. "People who are trapped in a cycle of obesity already have fear. They need hope."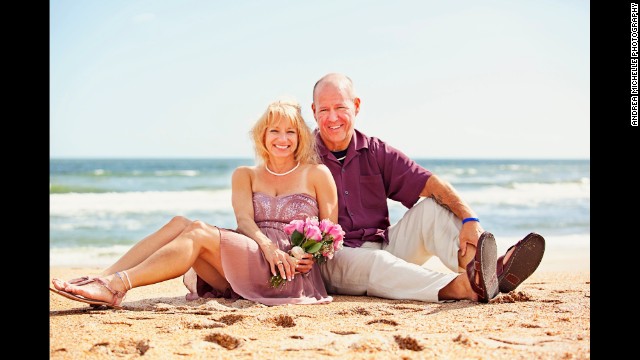 In 2012, Schwein and Jordan married. "It was like waking up from a long-shot, life-saving heart replacement surgery, only to find out that you not only came through, but you also won the lottery and are now a billionaire," Lee said.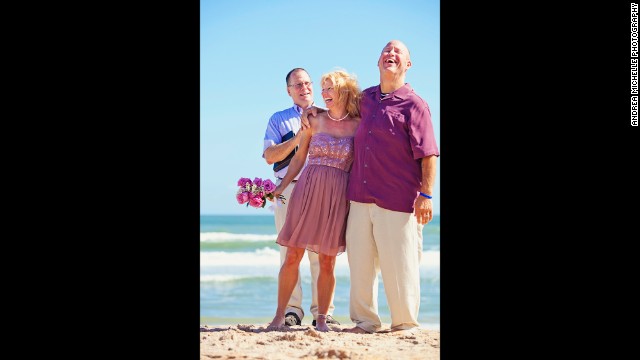 "People think losing almost 300 pounds and going from being on oxygen to a triathlete is the amazing (impossible dream) thing about my life … but it's NOT," he wrote in an e-mail. "The fact that I am married to the LOVE of MY LIFE – the ONE … That's the true amazing story!"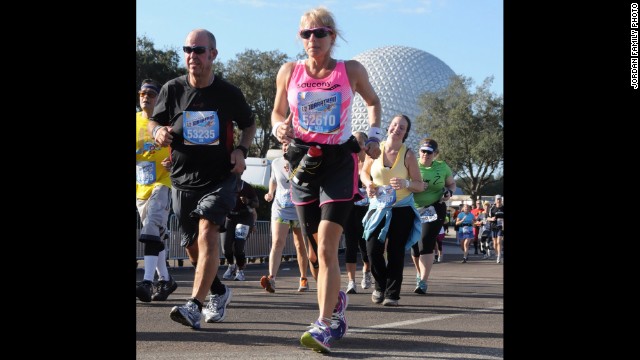 This 2013 Disney half-marathon was the couple's second such race together. Before he was a runner, Jordan was a walker. He began by walking for 30 seconds at a time, which was all he could do. He is now an ACE-certified personal trainer and health coach.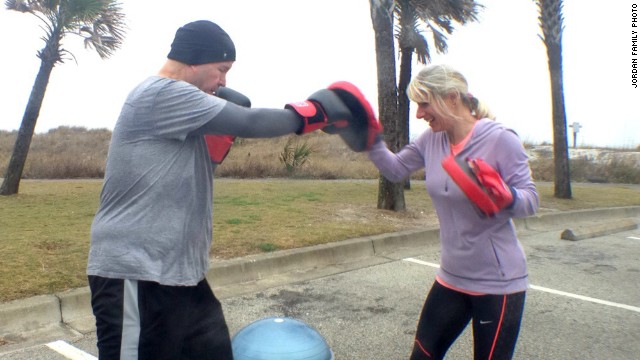 The couple trains together in addition to working at Beth's Boot Camp and Fullest Living in Jacksonville Beach, Florida. "We are grateful that we really do get to share life together working out, with our business, our volunteer work with Young Life and at church," Jordan said.
Lee Jordan and Beth Schwein met through a church youth group in high school
They went their separate ways in college and then reconnected 20 years later
Lee lost more than 275 pounds with Beth's encouragement
Lee and Beth are now both ACE-certified personal trainers, and Lee is a health coach
Editor's note: Do you have a weight-loss success story to share? Tell us how you did it, and you could be featured in our weekly weight-loss story on CNN.com.
(CNN) — Every detail was planned out that afternoon.
Lee Jordan was meeting a friend at a Starbucks in Herndon, Virginia. He had scouted out the area, including the parking situation, since he could walk only a very short distance.
He also wanted to make sure he didn't have to stand in line and could sit without fear of breaking the furniture.
Jordan weighed 450 pounds.
This was no ordinary chat over coffee. Jordan was meeting Beth, his high school and college sweetheart, more than 20 years since they had last seen each other.
He had only told Beth that he was out of shape — that he had gained some weight and lost some hair.
He anticipated the same looks he usually received from others who met him.
"Pity. Shock. Horror," he said.
What happened next was life-changing.
"Beth looked at me, and all she saw was Lee Jordan," he remembers. "That's it. There was nothing but love and acceptance in her eyes.
"I cannot express how powerful that was. That was the turning point to give me the willingness to turn things around."
Young love
In 1979, 15-year-old Jordan met 16-year-old Beth Schwein through a church youth group in the Washington area. The two started dating soon after.
After graduation, Schwein went to Radford University in Virginia; Jordan followed her a year later.
"In our minds, we (just had to) finish college, and then we could get married," he said.
While Schwein was on a straight-and-narrow path, Jordan focused more on partying and less on academics.
Eventually, Schwein got fed up and broke up with Jordan. She graduated. Broken-hearted, Jordan dropped out of school, moved home and went to work.
Schwein requested that the two not speak because it was too painful. He obliged.
Up and down
Jordan immersed himself in his job as an assistant manager at a clothing store.
Professional success, though, came at a high price. Not only was he not exercising, he was binge eating at night. Whether he was on the road or home alone, he estimates, he was eating 8,000 to 12,000 calories a day.
"I never ate less than two large pizzas, followed by the super-size large family bag of Doritos, two large tubs of dip, two large boxes of cookies and a half-gallon of ice cream," he said.
The pounds continued to pile on as he dealt with the stress of work.
"I buried my emotions in food."
Over the next decade, Jordan tried to battle the extra weight. On one occasion, he dropped 100 pounds in just four months.
"I would get on the treadmill or Stairmaster every single day for one hour," he said. "Then I would eat practically nothing: anywhere between 600 to 900 calories a day, which is insane."
But he soon learned this was not a lifestyle he could sustain. He gained all the weight back.
Nine years later, Jordan went to a weight loss camp. For a year, he prepared healthy meals and worked out. He was able to again drop 100 pounds.
He instantly started gaining it back once he returned to work.
He even tried a lower-stress job. Yet his obesity problem persisted.
The box
Jordan never married and barely dated. Even though he had no communication with Schwein, no mutual friends and no plans of ever seeing her again, he dwelled on her, often sifting through a box of cards and letters she had written years prior.
"People would say, 'You're crazy,' and I would say, 'I can't help it. I only love Beth,' " he recalled.
Meanwhile, Schwein did what she thought she was supposed to do: build a career, get married and have a family.
But in 2004, an aunt's dying wish prompted her to send a letter to Jordan out of the blue.
"(My aunt) knew how my life was going, and it wasn't the perfect life," she said. "I wasn't completely happy."
In the letter, she talked about how their love had been true and apologized for any hurt feelings. She caught him up on her life.
Several years earlier, she had suffered a broken back as a result of a Rollerblading accident. She didn't opt for the surgery the orthopedic surgeon had recommended. Rather, she taught herself to walk again, strengthening her body by working with a trainer certified by the American Council on Exercise.
Feeling better than ever before, she then decided to get certified as a trainer herself.
"If I could do this, then I could help somebody else," she remembered thinking. "It wasn't about doing anything extraordinary. It was about doing little things every single day."
Warning for Jordan
Shortly before the two met again in 2008, Jordan was diagnosed with obesity-induced breathing problems, diabetes and high cholesterol. He was put on an oxygen machine. Doctors warned him that if he didn't lose weight, he would be dead in two years.
"Even that couldn't (motivate me)," he said.
But after he saw Schwein, her love and acceptance encouraged him to make a complete lifestyle change. His first step was having an adjustable gastric band inserted around his stomach to control his food intake.
He also began a walking program, starting out for just 30 seconds at a time. Then he hired an ACE trainer. Schwein, who lived more than two hours away, encouraged him via letters.
"(Beth) told me, if you show up, you win," he said.
As Jordan became healthier, the couple began to explore their relationship beyond the occasional letter.
"All the years were washed away," he said. "I was alive again."
Immeasurable joy
After Schwein's divorce, the two got engaged in 2012 and were married shortly thereafter.
The site of the proposal? The same spot in Starbucks where they had met for coffee four years earlier.
At his heaviest, Jordan weighed 454 pounds and had a waist size of 72 inches. He now weighs 178 pounds and has a waist size of 34.
"Love, acceptance and encouragement (were) the difference-makers for me," he said.
Today, both are ACE-certified personal trainers. Jordan is also a health coach. They are committed to helping others live healthier lives.
The couple often does 5Ks, 10Ks and half-marathons together. They also both participate in triathlons.
They work together at Beth's Boot Camp in Jacksonville Beach, Florida, a program specifically designed for women. They also see individual clients through their company, Fullest Living.
The couple likes to say "Go small or go home" rather than "Go big or go home."
"If you do a little at a time, you can gain so much," Jordan said.